Many hands make great work
Published:

26 May 2021 9:58AM
Date: 21/09/2023
Thanks to the efforts of Save the Children and RizeUp Australia, a three-bedroom social housing property has been transformed into warm and welcoming temporary accommodation for families escaping domestic and family violence.
"We're so excited to be able to offer Ada's Haven to a family in need," says Liz Giles, a regional lead for Save the Children's domestic and family violence program in South East Queensland.
"Working alongside RizeUp, we've furnished the home in a way that recognises the physical environment can positively or negatively impact people who have had very traumatic experiences," she says.
"So, we've added little touches to make the home welcoming to increase the feelings of safety for the women and children who stay there."
'Ada's Haven' takes its name from community Elder Aunty Ada—a local pioneer who established the refuge over 30 years ago for First Nations women and children escaping domestic violence.
Now, the home supports any family seeking help and is one of several transitional homes managed by Save the Children in Southern Queensland.
Save the Children team leader Kristy Edwards works closely with families affected by domestic and family violence and says the home is a safe space where they can transition to independence.
"The new property now means Ada's [Haven] can accommodate larger families and children have a big yard to play in," Kristy says.
"Families will stay in the home for as long as they need and then transition to their own private and safe accommodation when they're ready.
"We'll also support women to find employment or education, the children to settle into school and also help address any barriers to obtaining income support and long-term stable housing."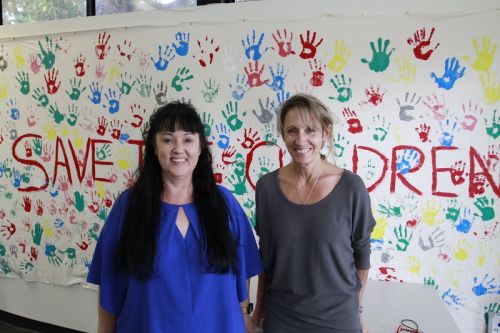 A warm and welcoming home
RizeUp's Jodie Frisch says her team helped Save the Children get the shelter ready for families by furnishing it with donated food, furniture and other goods.
"We wanted to create a refuge filled with love, warmth and a welcoming feeling for families," she says.
"Splashes of colour helped create a place where families not only feel safe, but also feel the love from the community that donated the supplies."
And when it comes time for families to move to more permanent accommodation, RizeUp is there again, to help them fill their new home with all they need to start over again—like furniture, linen, household supplies, pantry items, décor and toys.
"We do this every day and the feeling never tires. We know it makes a difference, and we just love being a part of that and walking alongside charities like the Save the Children, who do such valuable work for our community," says Jodie.
The Queensland Government recognises the importance of providing pathways to safe, secure and sustainable homes for women and children experiencing domestic and family violence and is committed to partnering with community agencies.
If you need help or this story has raised issues for you, call DV Connect—the Domestic Violence Helpline—on 1800 811 811.
Learn more about the information, services support available for people experiencing or impacted by domestic and family violence in Queensland.