Kodi's journey to independence
Last updated:

26 August 2021 3:37PM

First published:

25 August 2021 1:19PM
Date: 07/07/2022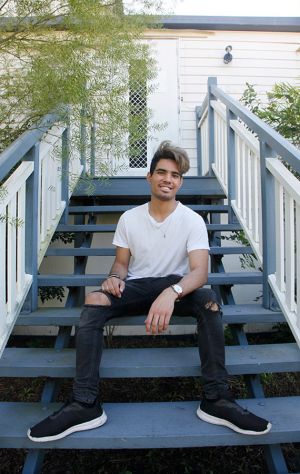 At only 21, Kodi works full-time at a Brisbane hairdressing salon, practises photography, and is putting money away each fortnight to buy his first home.
But two years ago, life was very different for Kodi.
"I was living with my dad and we had a fall out. He was really controlling, and I had put up with that for so long, so I decided to leave," Kodi said.
"I lived with a friend for a while, but then his landlord said I couldn't live there anymore."
Kodi is a New Zealand citizen and is not eligible for Commonwealth support. With no income or family support, he lived in emergency accommodation for six months before accepting a room at the Lodge Youth Support Service in Northgate last year.
The Lodge, which is funded by the Queensland Government, provides shared and independent housing with support for up to five young people experiencing or at risk of homelessness.
Case workers are onsite 24 hours a day, 7 days a week to help the young residents learn independence and self-reliance.
"Our goal is to really break the cycle of youth homelessness," says Theo, a case worker at the Lodge.
"When young people come here, we teach them to look after themselves. If they feel sick, we show them how to make a doctor's appointment. We teach them to cook and plan meals, do chores around the house, get involved in work, study or volunteering and to save money.
"Budgeting is the most important skill we teach young people. We explain to them that if you can control and understand your money, to save money, then you will survive. You'll be okay."
Dignity First funding also helps the Lodge run a learner driver program for residents, who can receive up to 100 hours of paid driving instruction for free.
It's this program that helped Kodi get his license and finally, his independence.
"Once I got my license, I was able to buy a car with the money I had saved through the Lodge's compulsory savings program," says Kodi.
"There's definitely a huge difference now compared to when I left my dad's house. I feel happy and more in control.
"I didn't know I had the potential to actually do this. I've learned a lot about myself and made so many new friends along the way."
Kodi is now putting money aside each week for his first home.
"I know it may sound a bit weird, because I'm a bit young," Kodi said.
"But every time I get paid, I put 50 to 100 dollars away in my bank account and I don't touch it. I watch it grow and grow after every pay."
If you know someone who is experiencing or at risk of homelessness, they can:
call the Homeless Hotline on 1800 474 753.
go online to qld.gov.au/housing.
Learn more about the ways we're creating housing pathways for young people experiencing or at risk of homelessness.