Free legal service settles residential park dispute
Published:

13 May 2021 8:21AM
Date: 21/09/2023
When Paul had a dispute with the park owner of his residential park, he used a free Queensland Government-funded legal service to successfully resolve it.
Paul and his wife moved into their home in an over-50s lifestyle community (also known as a residential park) 15 years ago. They were attracted to the low-set brick home because it was in a secure community with amenities such as a grass bowling green.
Residents in a residential park, like Paul, own their home (known as a manufactured home) but lease the land that the home is built on. They pay a weekly site rent which covers the lease and the upkeep of amenities in the park. Each resident in a residential park has a site agreement and these can differ depending on what was negotiated at the time of sale.
When Paul's wife died, he informed the park owner and asked for his site rent to be reduced. The park owner refused. Paul knew he was entitled to a site rent reduction because his site agreement offered two possible site rents—one for dual occupancy and one for single occupancy. That's when Paul contacted the Queensland Retirement Village Parks Advisory Service (QRVPAS) for help.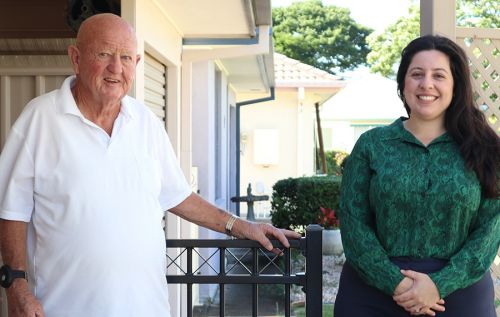 Loretta, who is a solicitor at the Caxton Legal Centre, was able to offer free advice to Paul through the QRVPAS.
"When I spoke to Paul, I asked him to email his site agreement to me so I could review it. I agreed that he had a claim," Loretta said.
"As Paul had told me that the park owner wasn't willing to discuss the issue, I helped him complete a Form 11 Dispute negotiation notice.
"When the park owner still refused to talk to him, I helped Paul file a claim with the Queensland Civil and Administrative Tribunal (QCAT) to commence mediation.
"The park owner agreed to settle the matter without going to mediation. Paul was successful in getting his site rent reduced and the park owner refunded the additional site rent Paul had paid."
Paul was very grateful to have Loretta's help to resolve his dispute.
"I found Loretta at QRVPAS to be very approachable and keen to assist in any way she could to obtain a settlement to my complete satisfaction," Paul said.
"She is an excellent solicitor and cares about the rights of seniors. I commend her on the way she approached my concerns and the way she handled my case."
If you have a dispute with the park owner of a residential park that you cannot resolve with them or through the home owners committee, you can complete a Form 11 Dispute negotiation notice (PDF, 201.16 KB). If you need help completing the form or want to discuss your case with a solicitor, you can contact the QRVPAS for help. There is a fee applicable if the matter needs to be referred to QCAT. Fees are waived for pensioners.
Find out more about the Dispute resolution process for people living in residential parks and the free legal advice offered by QRVPAS to residents of retirement villages and residential parks.