Elder finds housing help in Cairns
Last updated:

6 October 2021 12:50PM

First published:

6 October 2021 12:09PM
Date: 07/07/2022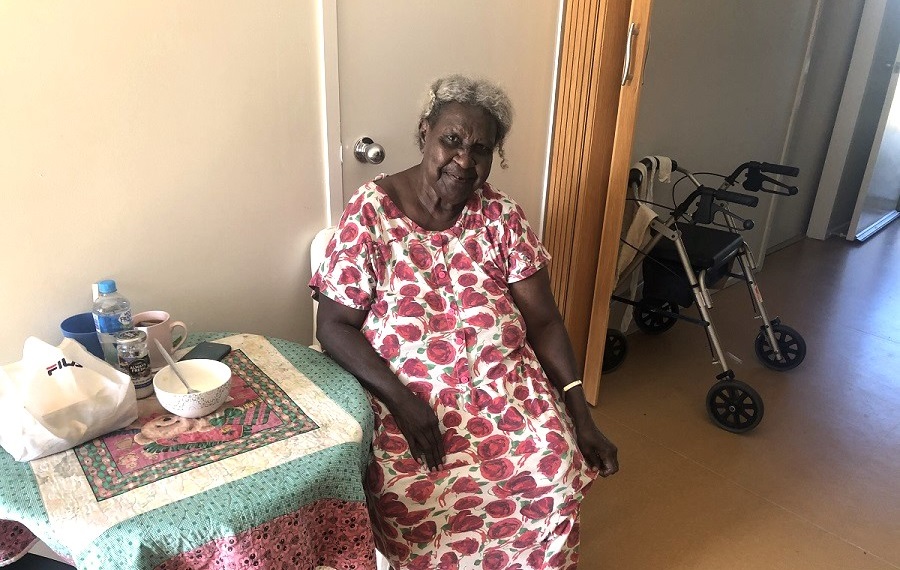 When she's not yarning with neighbours or playing with her grandchildren, Naika enjoys nothing more than relaxing in the garden of her senior's unit and watching the world go by.
The 71-year-old Ngurupai (Horn Island) Elder moved to the unit in Cairns earlier this year with the help of Cairns Housing Service Centre staff.
She wanted to be close to family and medical facilities and didn't want the burden of maintaining a large home.
"It's a good place for me here," says Naika.
"There are gardens around me and it's nice and green. I don't need to mow the lawn and everything is close. My family is walking distance and so are shops and transport."
Naika says she no longer has family on Ngurupai and the medical facilities are not what she needs.
"I would have to fly to Thursday Island to go to hospital," she says.
Customer Service Manager Priscilla, from the Cairns Housing Service Centre was able to help Naika find a unit that suited her needs.
"We worked with Naika and her family to find a quiet unit in a senior's complex in a location that was best for her," Priscilla says.
"Naika was apprehensive about living in Cairns at first. When she first moved down, she lived with her daughter and grandchildren for a while, but being around her family all the time really wore her out.
"She needed her own little place where she could rest, and now she has really settled here and I see her just sitting on her patio and really enjoying it."
Downsizing to a senior's unit has created many new opportunities for Naika, including staying physically active and socially connected.
"I go to the corner every day for a walk," she says.
"I have made some friends next door and with the lady from down the road, so I feel really supported.
"We yarn all day, and talk about what we used to do when we were younger. It's nice here."
For more information about downsizing or senior's accommodation, contact your nearest Housing Service Centre.