COVID-19: Partnering to feed the vulnerable
Published:

23 July 2020 4:07PM
Date: 28/02/2021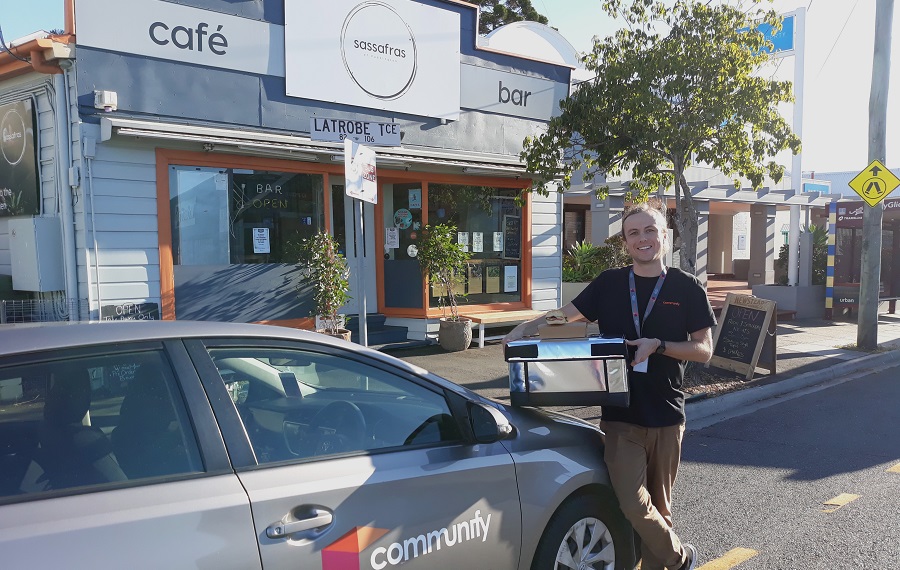 Communify has partnered with StreetSmart and Sassafras Café to deliver freshly prepared meals to people who are staying in crisis accommodation during the COVID-19 pandemic.
The SmartMeals program, developed by Victorian charity StreetSmart, is connecting cafes who are doing it tough during the COVID-19 pandemic with community groups who are helping vulnerable people. The program provides vital income for cafes and ensures work for vulnerable hospitality workers while feeding people in need.
Emily, Communify's Community Care and Participation Coordinator, says that the partnership with local café, Sassafras, has helped them deliver 50 meals a day since March across 10 different locations.
'The clients are very grateful to receive such high-quality meals. One client said the "beautiful, healthy and nutritious meals" are helping him focus on securing longer-term accommodation,' Emily said.
Emily says that some of the meals are delivered to people who have lost their jobs and their homes because of COVID-19 and are ineligible for Australian Government financial support. This includes refugees and asylum seekers, New Zealanders, Papua New Guineans, and international students.
"One of our clients, Sandra*, is a single mother of four kids aged 16 and under. The family have, by necessity, been moving from one crisis accommodation to another. So, the meals make a big difference," Emily said.
While Communify's HART4000 team are in regular telephone contact with clients, sometimes it's necessary to help people face-to-face. The meal deliveries provide an opportunity to do that.
"Our Community Care staff are providing wrap around supports including welfare checks, housing information and advocacy support," Emily said.
"For example, our support worker Alby speaks Pidgin, so he has been able to communicate important housing information to clients from Papua New Guinea who are staying in the crisis accommodation.
"While doing the welfare checks, we also identified clients who did not have mobile phones. We supplied them with pre-paid mobile phones, so that we can stay in contact."
Find out more about our response to housing vulnerable people during COVID-19.
*Name changed to protect client's privacy.